HOW MUCH DOES IT COST TO STAY AT SAMBIYA RIVER LODGE-UGANDA
Room type 
Double room
Single room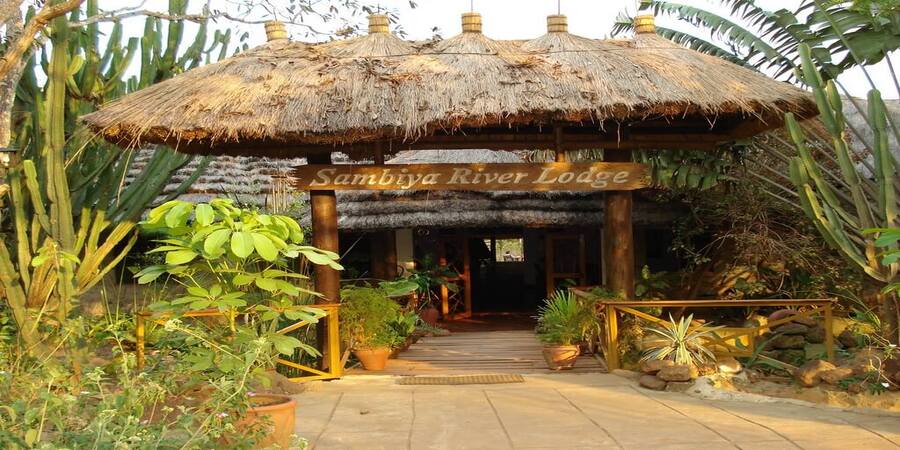 Sambiya River Lodge is located on a green oasis offering a thatched-roof cottage within the indigenous trees, where travelers can immerse themselves in nature and relax to the sounds of birdsong and the rushing waters of the Nile River.
 Sambiya River is splendid. Not only does the open-frontend safari lodge offer panoramic views of the Sambiya River, leopard country views, and the surrounding green hills of Murchison Falls, but it is also just 20 minutes' walk from the top of Murchison Falls, making Sambiya River Lodge the perfect base to start your adventure.
Sambiya River Lodge offers At this fantastic wildlife viewing point set overlooking the river, travelers can observe wildlife from the comfort of their veranda as they enjoy a drink from the river. At night, this river is illuminated by wonderful floodlights so that guests can easily spot the park's nocturnal wildlife species while having dinner.
Sambiya River Lodge has the best selection of adventure activities, such as fishing for Nile perch, hiking to the top of the falls, unlimited game drives, nature walks, and chimpanzee tracking in the Budongo Forest Reserve. Sambiya River Lodge is also known for its impeccable customer service, friendly staff, and excellent food. If you wish to experience purely Ugandan hospitality, Sambiya River Lodge is the place to stay.
Sambiya River Lodge also prioritizes an eco-friendly environment by mostly relying on solar power, using local materials, and reducing waste. Sambiya River Lodge offers over 20 secluded thatched-roof bandas, each with a private bathroom and veranda, which is perfect for travelers who want a little luxury and privacy on their trip to Uganda. However, if you are on a budget, you can also choose from 12 cheaper bandas; 9 of the bandas are self-contained, and 3 offer shared facilities.
Sambiya River Lodge also has a restaurant and bar that are fully stocked and serve a blend of both international and regional dishes, focusing on local produce in line with the lodge's eco-friendly ethos. Sambiya River Lodges' 'swimming pool and grass thatched veranda are good for escaping the afternoon sun, and the communal campfire is also great for swapping tales of the day's adventures at night, with a cold or warm drink in the hand, in true safari style.